Asking Citizenship is Illegal!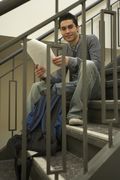 You can not ask if the candidate is a United States citizen.
You have to ask if the candidate is authorized to work in the U.S. Employers not only are allowed to inquire whether a candidate is prevented from lawfully becoming employed in this country because of Visa or Immigration Status, but also are required to document legal residency status.
SMB HR Alert Continues