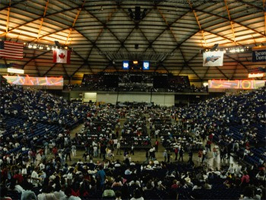 The convention and trade show business has many closely related, or coattail, industries. The most obvious of these is the hospitality industry with their often expensive, but conveniently located rooms actually connected to some of the countries larger convention centers. Also somewhat dependant on a successful convention center is a cities transportation sector, with many a taxi-cab driver relying on the influx of visitors to a down town for their livelihood. Also closely connected is the short term equipment rental industry, which as would imagine is just a fancy phrase for
event rentals
.
Recently with the increase in travel costs the convention industry has been holding its breath and hoping that attendance numbers don't take to hard of a hit. However there is another school of thought that says higher travel costs are leading some to look even closer at the conventions and shows offered right in their own metropolitan areas.
To help educate the convention going public and to facilitate the entire convention exhibitor and
convention vendor
experience, which is all the more critical in light of the ever increasing travel costs, the folks at ConventioVendor.com have committed to making their site a one stop information source, with a commitment to add one new convention venue per month. In time the site will host hundreds of articles and reviews of the nation's largest convention venues as well as information provided by local convention vendors. Hopefully, through the web, a more effective method of matching the needs of the convention going public to local convention vendors, the industry as a whole will be better able to withstand the ups and downs of today's economy.